News
Hannah van Zanten awarded prestigious FoodShot prize for circular model
Published on

January 17, 2022
Hannah van Zanten, Associate Professor at Farming Systems Ecology and visiting professor at Cornell University, has won the second GroundBreaker Prize, securing a research budget of $150,000. The prize was created in 2020 by FoodShot Global, an investment platform that serves as a catalyst for food chain innovation. Van Zanten received the award for her research on creating a sustainable circular model that strikes an optimum balance between plant-based and animal-based proteins in our global diet.
The jury also praised Van Zanten's holistic vision and drive to contribute to a sustainable food system. The award ceremony, which had been scheduled to take place in New York, was cancelled due to the COVID-19 pandemic. The winners were therefore announced on the FoodShot Global website. "It's a great honour," Van Zanten said of the prize. "And a confirmation that we are not only doing good work here, but also working on the right things."
Circular Food System model
With her team, Van Zanten developed the Circular Food System (CiFoS) model. This model helps to identify how people on every continent can combine vegetable proteins (42 crops) and animal proteins (10 animal production systems with different productivity levels) to create a nutritious diet that respects the carrying capacity of the planet. The model incorporates factors such as greenhouse gas emissions from food production, fertiliser inputs, impacts on biodiversity, farmer incomes and human nutrition. The finishing touches are being made on the European model. Work is also underway to extend the model on a global scale to include the impact of food transport between continents.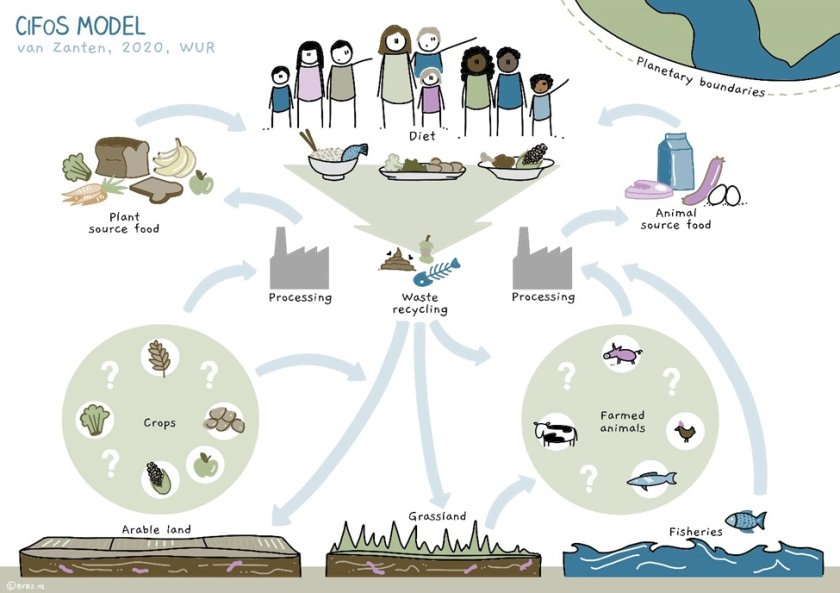 Origins of the research
The CiFoS model stems from research she did in collaboration with many fellow researchers at and beyond WUR on the role of animals in circular agriculture. Van Zanten's doctoral research, which resulted in her obtaining a doctorate with the designation cum laude in 2016, revealed that feeding animals with residual flows – products that people are unwilling or unable to eat – can dramatically reduce the environmental impact of livestock farming.
This idea appealed to the former Minister of Agriculture who, in 2018, included the circular model in her vision on the future of Dutch agriculture. In Wageningen, the Animal Sciences Group – to which Van Zanten was previously affiliated – presented her with an innovation award for the research. She was also awarded a Veni grant to further develop this research.
Embracing the complexity of the food system
In subsequent studies, Van Zanten has increasingly come to realise that the role of animals in circular agriculture depends on various facets of the food system. "Everything is connected. For example, if we consume a healthier diet consisting of wholegrain bread and pasta, fewer residual products will be available for animals and thus fewer animals can be reared in a circular system. So a transition to a circular system that fits within the limits of our planet requires us to embrace the inherent complexity of our food system."
Towards a radically different food system
Van Zanten: "The results of this research study will present a redesign of the food system. This will give us more information about how to produce healthy food for a growing population while simultaneously minimising the environmental impact. That food system is a complex system in which different interests sometimes clash. But I want to use methods such as gaming to encourage a dialogue between stakeholders so we can arrive at a shared vision."
The step that follows is the most difficult. "Ultimately, I hope to contribute to a sustainable food system that produces a healthy diet with minimal impact on the environment and that also provides food security, equality, animal welfare and improved biodiversity." Van Zanten wants to use the prize money to research best practices with her team in at least three countries on different continents.